Quality Score Adwords
Posted on 02.12.19 by Suchismita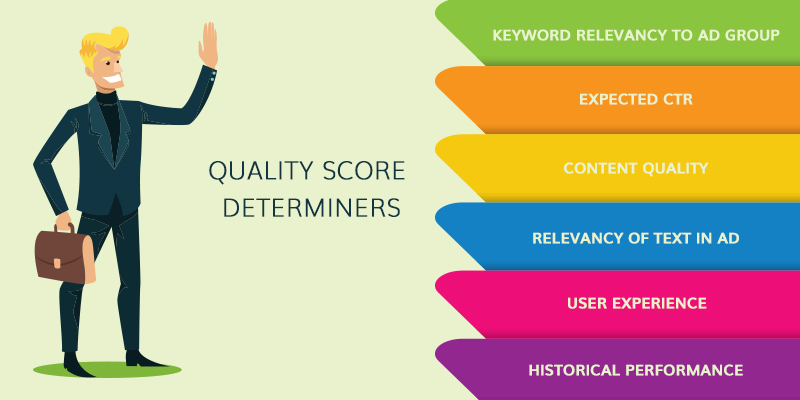 AdWords offers a place for brands to advertise and kick-start their share of PPC games. It is the platform from where digital marketers seek maximum ROI, however, it is not the case always.
Advertisers seek high-quality leads from Google Ads. To keep these leads flowing and flooding, the advertisers need to ensure that other parts are operating just right. The part involves selecting relevant keywords and using compelling and quality ads. If done right, it can award advertisers with reduced CPCs.
The question you might be thinking of: How do the mentioned process relate to Quality Score?
Well, Quality Score is a measurement used by Google to assess the relevancy of keyword used across many auctions it participates in. A good score can help advertisers in lead conversions. However, to make it possible the digital marketers need to focus on many parameters that can help them to force the right message about the products or services to users.
Google looks out for the following three points while accessing the quality score
Ads
KEYWORDS
Landing page
If you want to understand why Google uses Quality Score, then you are in the right place.
What exactly is a Quality Score?
Quality Score offers a general sense of the quality of ads to the advertisers. Google scores ads on a scale of 1 to 10, with 10 being the best, for keywords used in the web pages and landing pages. Optimal relevancy leads to better visibility of brands in the digital space, with enhanced conversion rates.
The score is to help advertisers see if their ads are going in the right way to the right users.
The score assists advertisers to examine if they are selecting the right keywords, writing unique ads, and generating traffic with targeted landing pages. However, it is the real-time quality score that matters. The score fluctuates all the time and every time. Every single search that occurs on Google leads to a different score, taking it beyond the 1-10 number scale.
Quality Score determiners
Keyword relevancy to ad group
Expected CTR
Content Quality
Relevancy of text in ad
User experience
Historical performance
Google defines:
"Quality Score is an estimate of how relevant your ads, keywords, and landing pages are to a person who sees your ad. Higher Quality Scores typically lead to lower costs and better ad positions."
A good AdWords Quality Score indicates -
Enhanced PPC profits
Improved user experience
Improved relevancy of keywords
Better PPC advertising campaign
Secured top-position of your website or blog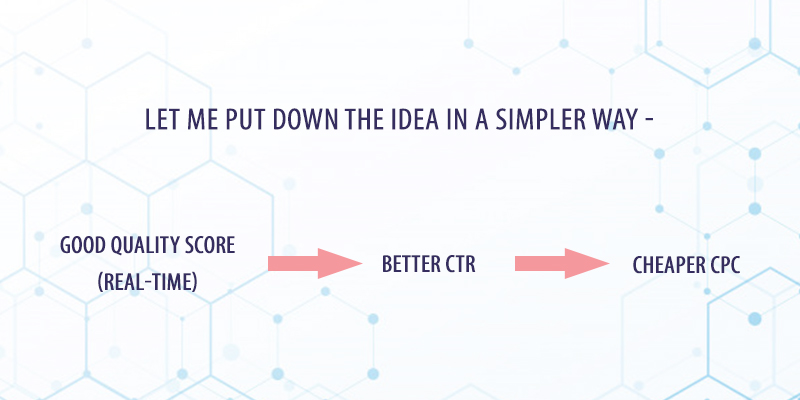 Let me put down the idea in a simpler way -
Good Quality Score (real-time) - Better CTR - Cheaper CPC
SEO and PPC campaigns are extremely useful to drive traffic to websites or particular webpages. By particular webpages, I meant a landing page. it is the most crucial aspect of a digital marketing campaign. Landing pages are designed with a goal to convert traffic into leads or sales.
An optimized landing page can bring the following benefits:
Leads to more conversions
Provide better metrics
Cut advertising costs
Help target highly-specific keyword phrases
Enhances brand's reputability
How can I achieve a high CTR?
Boosting organic traffic is not an easy job. And ask any SEO expert he will tell you: if you want to bring the organic traffic, the front page of Google is the only place to be. The ranking of search engines depends on many aspects: the popularity of websites and page views. A higher CTR equals better SEO.
It is about quality and relevance. Search engines like Google examine the engagements to determine which web pages fit best with the search query.
CTR is the most basic marketing metric, which affects the bottom line for both sides, advertisers and publishers. CTR is clicks (the number of people clicked on an ad) divided by impressions (the number of times the ad was displayed).
Clicks/Ad Impressions = CTR
More engagements indicate users are getting interested in your products and services, this results in improved Quality Score, reduced cost-per-click, and increased impression. Therefore, a good CTR generates a chain of positive results.
In a nutshell, CTR accounts for the number of users who clicked your ads. But the 'clicking fingers' don't reflect the actual conversion rate on your web page or landing page. To get a complete picture, one needs to use CTR with other metrics. This is where KPI comes into the picture. Together, these metrics can bring success to any business. In a nutshell, the following factors help a brand to improve the CTA:
Better SEO
A better and unique ad copy
Primary or long-tail keywords
A/B testing on ads can get you a clear picture
The audience is the key to bring out optimum relevancy in keywords
What leads to higher conversion rates?
Now that we have established CTR alone doesn't determine the successful conversion rate, we understand getting traffic that doesn't convert is useless. There are a number of factors that collectively bring success to your PPC campaign:
Fewer fields in the query form
Use realizable action verbs to encourage visitors to take actions
Use testimonials on your landing page to provide social proof
Put a clear listing of your products and services (and their benefits!)
Use catchy and relevant headlines to get visitor's attention
Put a video to humanize your brand
Craft specific landing pages for PPC ads
Recommend related products to enhance customer engagement with your brand
Don't exaggerate
Include customer review to influence visitors to make purchase decisions
The most important thing to understand here is: the marketing formula for one website/brand might not work with another website/brand. This prevents marketers to find a one-size-fits-all strategy for achieving optimal conversions.
Bottomline
A low AdWords Quality Score indicates a disconnection between keywords, ad group and text, and landing page content. Keywords with higher relevancy result naturally to a higher quality score. Therefore, paying extra heed to relevance is a sure-shot to improve your quality score.