According to Yahoo's Flurry analytics: "90 percent of consumer's mobile time is spent in apps."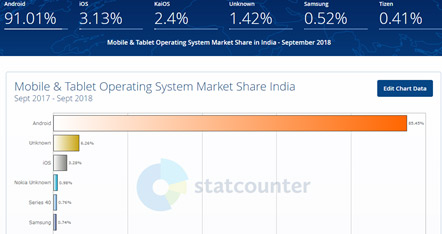 If you do not have an app for your business, you are losing a grip in the current competitive market. Mobile marketing is growing by leaps and bounds which makes businesses to adopt mobile marketing concept or get overpowered by the competitors in the market. When it comes to India, one should start with android app development India search to get ahead in the market competition.
How impactful Android Development in India is in the Indian Market?
The market is already becoming a digital competitive market where missing a single aspect related to reaching your audience means killing your business. having an app is a necessary step for a business owner because you need to be there where your target audience is. It has been mentioned in reports that the majority of mobile users are using varied of apps for different purposes.
Hire Android App Developer in Delhi because Delhi has a pool of skilled app developer who can help you to get the best app for your business. Having an app will reduce the cost of communication with your target customers. In the same manner, there are several android mobile app development India benefits. In India, there are maximum smartphone users having Android operating system compared to iOS.
Most Impactful Way To Engage WIth Your Customers
Reduced Cost of Customer Interaction
Increase the Probability of Customer Loyalty and Awareness
One should have a proper understanding of the requirements and needs of the target customers while coming up with the idea of having an app. If you are looking for one of the best android app development company in Delhi, you need to rely on the one that offers you not only the ideas of android app but a complete execution plan.
"Ideas are easy. Execution is everything." ー John Doerr, Venture Capitalist
Android app Development Work Process