Client

Toyota

Location

Oman
Toyota Oman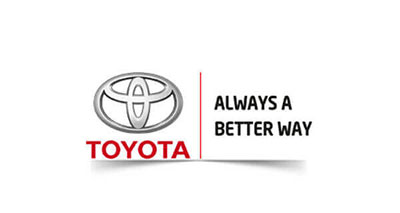 Saud Bahwan Group: Totally Committed to Customer Satisfaction For several decades, the Saud Bahwan Group has been serving customers in diverse fields, which include Transportation, Construction, Projects, Oil & Gas, Industrial Equipment, Air and Seaport Equipment &Systems, Travel & Tourism and Agriculture.
SBG's massive investments in infrastructure and facilities include a nationwide network of branches, well-appointed showrooms, state-of-the-art parts and service operations and sophisticated warehousing, amongst many others - all aimed at delivering the highest levels of customer satisfaction.
And playing an important role in this voyage of excellence is its talented team of Omani employees pursuing rewarding careers in all operational areas. Infact, the Group has taken pioneering strides in the training, motivation and gainful employment of Nationals.
With the smiling faces of the customer as the ultimate goal, the Group is constantly striving focusing on its time honoured corporate philosophy - 'Customer Satisfaction No.1'
Mission
'Leadership Through Excellence'
Products
Passenger Cars - Yaris, Corolla, Camry, Aurion, Avalon
Multi Purpose Vehicles- Innova, Previa
Four Wheel Drives - RAV4, Fortunner, FJ Cruiser, Prado, Land Cruiser, Sequoia
Commercial Vehicles-Hilux, Hiace, Coaster, Dyna
Website Url : http://www.toyotaoman.com/
WHAT WE DID FOR TOYOTA -
Toyota Selfie Contest | Oman Motor Show'14
About the contest : A selfie contest was conducted by Toyota on the event of Oman motor show'14. The idea was to increase the footfall on Toyota pavilion at the motor show. The contest was designed matching the latest trend of clicking selfies. A dedicated interactive application was developed, built in with Facebook API on the Toyota Oman Page.
Time Facts:
Campaign duration – 25th Nov'14 to 17th Dec'14
Entry Dates – 2nd Dec'14 to 5th Dec'14
Winners Declaration – 8th Dec'14
Media:
Two major players for the contest:
Toyota's official Facebook page
Dedicated Toyota (contest) application
Target audience:
Oman's urban & sub-urban spreads.
Toyota's FB page followers.
Marketing channels:
Marketing tools:
Posts
One-to-one communication.
Challenges
Cross cultural communication.
Development of an interactive application, built in with Facebook API on the Toyota Oman Page.
Encouraging the FB fans and general urban/sub-urban crowd of Oman, to visit Toyota pavilion at Oman Motor Show and participate in the contest.
Igniting and maintaining the rigorous engagement and inputs via creative FB posts.
Shooting bi-lingual posts to achieve maximum reach engagement.
Monitoring the authenticity of entries via application.
Maintaining the application data base.
Results:
An overwhelming response from Toyota page followers.
High number of footfall in the Toyota pavilion.
Participation from various age groups.
Top rank gained in FB page likes and engagement (compared to competitor car brands - Oman).
100+ Entries.
60% increase in FB fan base.
Buzz amongst the urban & sub-urban spreads of Oman.