Client

QUANTINSTI

Location

Mumbai
QUANTINSTI: "Algorithmic Trading Institute"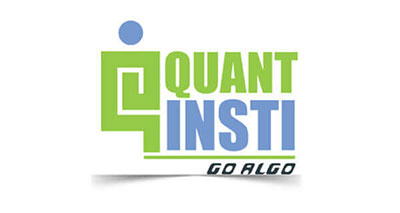 QuantInsti is India's pioneer Algorithm Trading Research and Training Institute. High frequency and Algorithmic trading domain is one of the most lucrative career choices in the contemporary financial markets. Introduction of Algorithmic Trading in India in 2008 changed the face of trading as well as the nature of skill sets required to become a successful trader. QuantInsti aims to provide critical competitive edge to its participants through its skillfully designed programs, which not just help them understand the basics but also to become a domain expert. After successful completion of the course, participants should be conceptually comfortable with the following:
Managing High Frequency Data and building econometric models
Learn how to back-test, implement and trade advance quantitative strategies
Furnish your programming skills to build low latency trading strategies
Using statistical packages and integrating them to your trading system
Using Option pricing models for running volatility books and make markets
Hands on experience with advance algorithmic trading platforms
Mission
We are committed to assure a lasting learning experience that can help our participants in their professional career by imparting knowledge through innovative and effective measures.
Products
Executive Programme in Algorithmic Trading (E-PAT): A comprehensive course covering all important aspects of Algorithmic Trading.(www.quantinsti.com)
WHAT WE DID FOR QUANTINSTI -
Webisdom's Innovative SEO Solution helps a trading institute to enhance their web presence and generate online quality leads. This helps an organization to utilize online marketing budget efficiently and increase sales by up to 20% of the current sales.
The Challenge
The pioneering algo trading training institute required to improve its Organic search ranking and to improve the online web presence. Quantinsti has only one most competitive rival which they wanted to defeat in organic searches.They also wanted us to convert their 100+ keywords into high performing keywords with number of quality leads.
The Solution
After a careful analysis of the firm's needs, a solid solution design was created. Based on the Competitor's Analysis and the industry trend, We offer them a package of SEO services in which we Initialize it by finding the gap in selection of keywords & bidding strategy and Fill That Gap With Incredibly performing keywords, relevant Content and Tell The World About Their Algorithmic trading & training services.
The Results
Webisdom SEO Solutions allows Quantinsti to occupy 1st Rank in the Google organic searches and a competitive edge over the competitors and help in improving the sales revenue and improve the online visibility to a higher extent as compared to its competitors. The end result was Quantinsti visible in organic search on almost 100+ keywords out of those almost 80 keywords are at top 3 positions in Google Search. There has been a remarkable increase in Traffic in just 1 year of activity also we were able to generate on an average 400 leads per month from website.