Shifting Paradigms: 'Voice Search' The Present and The Future
Posted on 10.03.18 by Suraj Bajpai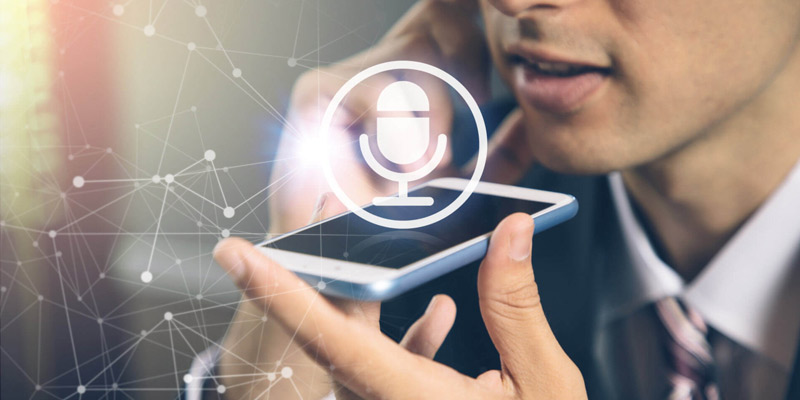 When Google introduced its maps and started offering the AI navigator that will start telling directions to us, who knew that it will become an essential part in our day to day life. Not even a decade has passed since all this happened and the technology revolution has seen a paradigm shift of having Voice Search & Support as a non-negligible requirement.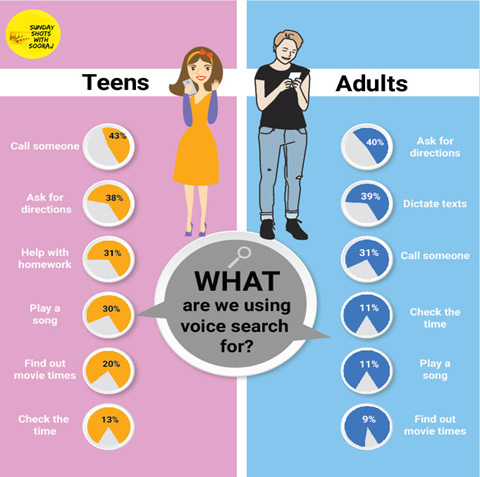 None ever really thought of speaking into a smartphone or mobile device to find information from a virtual assistant, it is something that most people, years ago, never would have imagined. And to our shock, It's been reported that not only are half of all searches that are performed on mobile devices are voice queries but they have also increased by more than 30% now.
Considering the emergence of Voice Search as our present and the future, let us see how Voice Search is impacting the booming Digital Marketing industry, how and what goes into becoming a Voice Search Enabled business or an updated market participant.
Virtual Assistant Technology Drives Voice Search
Recent years have seen an addition to the adoption of speech-to-text technology onto our phones and Internet of Things (IoT) devices. The rise of virtual assistants is another key driver of this new search style. Currently, the market is having some major personal voice assistance services that are the only up and running products. Top 4 Virtual Assistants that are leading the market today are Siri (Apple), Google Now (Google), Alexa (Amazon), Cortana (Microsoft).
Being the Pioneer of Voice Search AI 'Apple' was the first big player to equip its iPhones with Siri which is a voice search and personal assistant technology. Following the trend, Google introduced 'Google Now', a revolutionary effort that aims to serve up information before you even ask. Later, Microsoft settled its foot in the market with their debutante, Cortana. Cortana inspired Amazon to take a step further thus, they developed 'Amazon Echo' as a device and virtual assistant named "Alexa" that works as SIRI's virtual sister just with a different body, whereas SIRI is an inbuilt Voice Assistant in the iPhones.
Ever Thought About How Many Searches are Performed with Voice Search?
To the fact, every day, 3.5 billion searches are performed on Google, alone. All these Voice Searches make up almost a third of those searches, this topic needs to be on your marketing radar if you're an uptrend person.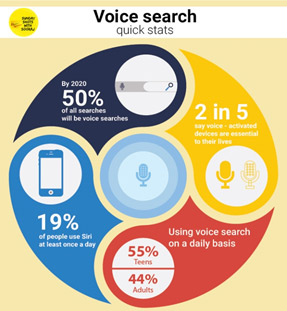 How Do People use Voice Search?
Virtual assistants are often called upon for fulfilling information requests or answering questions. Here are two quick examples of how people use voice search, and the goal or type of the queries:
"OK, Google. Find coffee shops near me."
Finding nearby stores and restaurants
"Siri, what is a fidget spinner?"
Asking basic information (i.e. directions, facts, weather)
What Does Voice Search Mean for SEO?
Digital marketing is geared toward generating leads and converting them into customers, regardless of whether the lead is acquired via voice- or text-based search. To continue growing your business, digital marketing must be optimized to account for the effects of voice search on SEO.
Since the advancement of voice recognition software, this "voice-to-text" technology has been integrated as a basic feature on all modern day mobile devices and recent studies show that consumers are using mobile voice search for local queries three times more than text searches. This rapid rise of voice-driven searches continues to evolve and shape the future of SEO.
Changing The Search Query
Virtual assistants and speech-to-text are changing the dynamic of search queries. Below are examples that show how voice search incorporates longer queries that more clearly identify user intent.
Text Search Query
Pizza in Saket
Pizza delivery
Voice Search Query
"Where's the closest pizza place?"
"Find pizza delivery open now"
Auto-correcting the Search Queries
Sometimes what a user types in isn't what gets searched. Virtual assistants can revise and auto-correct queries. Before it submits the request to the search engine, the virtual assistant may add in keywords or re-phrase the speech-to-text query to depict user intent.
Short-handing a query like, "Closest Petrol Pump Stations," may result in Google Now automatically tweaking the phrase to one more commonly used and best matching user intent, such as "Where is the nearest Petrol Pump Station?"
Amazing isn't it?
RankBrain and AI
Search engines like Google and Bing are taking measures to accommodate the use of virtual assistants and the voice-driven shift in user search behaviour.
How to Rank #1 in Voice Search
As voice search continues to revolutionize the search engines and SEO, there are a few future-proof steps to follow that align with Hummingbird, RankBrain, and Google's projected strategy for rankings:
Use natural language over basic keywords. Include questions and phrases that your audience may ask or want to know, and present them in a way that makes sense and flows well.
Make it easy and clear for Google to understand the topic and how best to serve it up to users. Virtual assistants may pull excerpts from your page to answer a user's question, so include content that would best fit this.
Provide content that matches the user's search term intent. The more relevant and useful the content is, the better.
Conclusion
Most people are looking for a quick solution to make multitasking more effective, making speech-to-text the perfect candidate. The use of 'voice-over text' is also attractive to those who can't be bothered with typing. With an error rate of only 8%, voice search is going to change the way people search. The rise of voice search impacts how customers search for products and services, making it relevant for digital marketers to ensure their content is visible from every type of request (voice search, question queries, etc.)
Have a different thought about the overall idea? It'll be great to read them in the comments below.